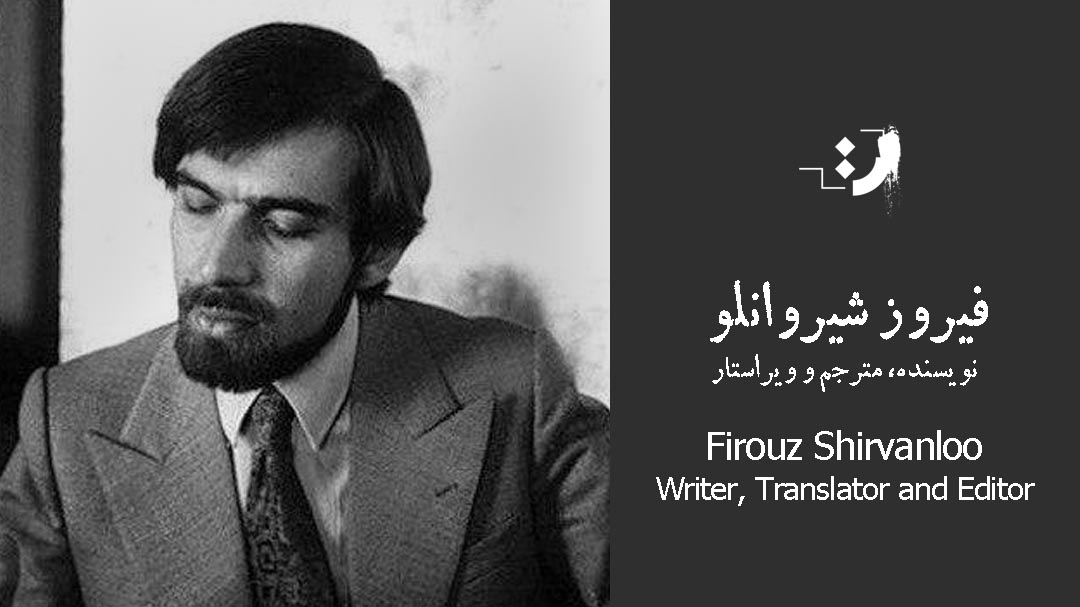 SHIRVANLU, Firuz (Firuz Širvānlu, b. Mashad, September 1938; d. Tehran, January 1989), art critic, scholar, and artist, who played an instrumental role in the creation and management of several museums and cultural centers in the 1960s and 1970s.
He was the son of Reżā Shirvanlu, a high-ranking military officer, and Šariʿa Moqaddam Ebrāhimlu, a well-educated and cultured woman. His maternal grandfather, a merchant from Ashkabad in Turkmenistan, emigrated with his family to Mašhad after the 1917 Russian Revolution. Shirvanlu's parents moved to Tehran when he was still a child. He completed his primary education at Manučehri Elementary School and went on to Alborz College, for his secondary education. Concurrently, he attended the private painting classes of Jaʿfar Petgar, a noted painter of the realist school.
In 1958 he left for England and studied sociology of art at the University of Leeds. There, he became involved with the Confederation of Iranian Students, a leftist political student organization active in 1960s and 1970s. In 1963, he returned to Iran and began working as an editor at Franklin Publishing House (Moʾassasa-ye entešārāt-e Ferānklin; see FRANKLIN BOOK PROGRAM) in 1964. He also joined an underground political group, which included a number of his old activist friends from the Confederation. In April 1965 an attempt on the life of Mohammad Reza Shah Pahlavi (r. 1941-1979) that took place at the Marble Palace, Tehran, led to the trial and conviction of five former Persian student leaders from England, including Shirvanlu. The Confederation organized a defense campaign involving Amnesty International and the International Commission of Jurists, as well as such famous philosophers and campaigners for human rights as Jean-Paul Sartre, and Bertrand Russell. Their efforts had some impact; all the defendants had their sentences reduced, and none of them were executed (Matin-Asgari, pp. 123). Shirvanlu was released in December 1965.
Soon after his release, Shirvanlu founded Negāra, a graphic design studio, employing several talented young people, including Faršid Meṯqāli (b. 1940) and Nikzād Nojumi (b. 1941), who became noted illustrators and painters, as well as Amir Nāderi (b. 1942) and ʿAbbās Kiā-Rostami (b.1940), internationally acclaimed film directors (Aḥmadi, p. 23). In 1967, he joined the newly established Center for the Intellectual Development of Children and Young Adults (Kānun-e parvareš-e fekri-e kudakān va nowjavānān). Colleagues and contemporary artists and literary figures have praised his tenure at the Center, which brought forth a marked expansion of its cultural programs and activities (Nuriʿalā, p. 97; Nāderi, p. 33). He created a film division in the Center, in which many directors produced animations and short films for children and adolescents. This provided opportunities, unavailable elsewhere, for young directors, several of whom went on to gain international recognition (Nāderi, p. 34). Shirvanlu also initiated a publication series devoted to children's literature, and established a research group to conduct studies on the living conditions and cultural needs of children and youths in both urban and rural surroundings (Āzād-Tehrāni, p. 40).
Successful management of cultural centers prompted Queen Farah's Private Office to invite Shirvanlu to assist in the planning and the implementation of cultural projects. He played an instrumental role in the creation of such museums as Reżā ʿAbbāsi (1976), Ābgina (1976), Honar-e Moʿāṣer (Contemporary Arts, 1977), as well as the Carpet Museum (Muze-ye farš, 1976), and the Niāvarān Cultural Center (Farhangsarāy-e Niāvarān, 1978). He also assisted the Center by organizing art exhibitions and film festivals; selecting and purchasing Iranian artists' works; and publishing art-related books and catalogues. The management of Niāvarān Cultural Center was Shirvanlu's last official position. His several attempts to save the Center after the Islamic Revolution of 1979, renaming it in the memory of Nima Yushij (Nimā Yušij, 1896-1960), eminent modernist poet, proved futile. In later years, with his wife's assistance, he began designing and producing clothes. As always, his good taste and perseverance brought him fame and success (Āḡdāšlu, p. 16).
Although much of Shirvanlu's life was spent in planning and launching cultural projects, he did not limit himself to these activities. He also translated several influential books and sponsored the translation of many others. His translation of The Necessity of Art: a Marxist Approach, by Ernst Fischer (1899-1972), the Austrian art critic, was published in 1969 as Żarurat-e honar dar ravand-e takāmol-e ejtemāʿi. The Marxist ideology of the book found a large and sympathetic audience in Iranian artistic and literary circles. It received an instant acclaim and was reprinted several times. Shirvanlu also translated a number of articles on the sociology of art, which were published in literary and art journals. A collection of his translations of articles on the role of language in culture and society was published in 1971, entitled Zabān, tafakkor va šenāḵt (Language, thought and cognition). He also began the compilation of a dictionary of Persian idioms in art and humanities; a goal he pursued until the last days of his life. Some of the terms he created are frequently used in contemporary philosophical and artistic texts.
Poetry was another of his interests, particularly those by Latin American poets. He translated into Persian poems by the two Nobel laureates, the Chilean communist poet Pablo Neruda, and the Mexican poet Octavio Paz (Shirvanlu, 1989, pp. 62-80), among others. Shirvanlu was also interested in the history and development of Persian painting. His translation of Persian Miniature Painting (London, 1933), a critical and descriptive illustrated catalogue of the famous 1931 exhibition of Persian art at Burlington House, London, by Laurence Binyon, Basil Gray, and James Vere Stewart Wilkinson, was published in 1975.
Shirvanlu's sociological approach towards art and culture was also manifest in his elaboration on the genesis and development of different art schools and styles, which he viewed as not so much invented by individual artists, but rather as products of historical trends and social currents that affect the artists and influence their outlook; a characteristic that, in his view, art shares with other social and cultural phenomena. Taking a broad historical overview and arguing that the arts in the West and in Iran were founded on two distinct attitudes towards life, he contended that the contemporary Iranian artists should nurture their cultural heritage so as to capture a distinctive style of their own (Ašrafi, p.18).
Shirvanlu pursued painting as a hobby, and was his own works' harshest critic. He never attempted, however, to exhibit his works. In his youth, most probably on the recommendation of his teacher Jaʿfar Petgar, he drew copies of works by European masters. Later, he painted portraits in both oil and watercolor in the realistic style. His self-portrait (1973: FIGURE 1) shows that he was not without skill in verisimilitude, but his urge to innovate led him to new experiments with the Persian artistic traditions. In a series of collages dating to the 1970's, and influenced by the popular neo-traditionalist movement, he made use of pages of Qajar lithographed books, old seals, Persian miniatures and calligraphic elements 1975; FIGURE 2).
Shirvanlu was first diagnosed with atherosclerosis and later developed kidney complications. He died on January 20, 1989. He shunned publicity, and never granted interviews about his life and work. Yādnāma-ye Firuz Širvānlu, compiled by friends, students and colleagues, is the only written source which offers a glimpse at his life-long passions and accomplishments. The book also includes Shirvanlu's translations of some Latin American poems, a few samples of his paintings, and an article, entitled "ḵᵛāstgāh-e negāra-gari dar Irān," in which he traces the influence of pre-Islamic Persian art on the development of early Islamic art, highlighting the contribution by Zoroastrians, Muslims of Persian origin, Christians and particularly Manicheans of Central Asia, to its further flowering in later centuries (Shirvanlu, 1989, p. 47-61; see ART IN IRAN, HISTORY OF). Shirvanlu married his wife, Nāhid, in 1973. They had two sons, Rādyār and Dādbeh Firuzān, who live in the United States of America.
Bibliography:
Aḥmad Reżā Aḥmadi, "Be kouča āmadam, bārān mi-bārid," in Yādnāma-ye Firuz Širvānlu, Tehran, 1989, pp. 22-25.
Ḥesām Ašrafi, "Barḵᵛordi bā donyā-ye ḵārej barā-ye behtar šenāḵtan-e ḵᵛod," Tamāšā 272, Tehran, 1976, pp. 18-19, 93.
Maḥmud Āzād Tehrāni, "Ān sāl-hā," in Yādnāma-ye Firuz Širvānlu, Tehran, 1989, pp. 31-44.
Afshin Matin Asgari, "CONFEDERATION OF IRANIAN STUDENTS, NATIONAL UNION," Encyclopaedia Iranica VI, pp. 121-4.
Amir Nāderi, "Dar miāna-ye rāh," Film, no. 345, p. 42.
Esmāʿil Nuriʿalā, Teori-e šeʿr (Theory of Poetry), London, 1994.
Firuz Širvānlu,"Ḵᵛāstgāh-e negāra-gari dar Irān," in Yādnāma-ye Firuz Širvānlu, Tehran, 1989, pp. 47-61.
Idem,"Rābeṭa-ye towʾamān-e ḥormat va parḵāšgari," Rastāḵiz 196, Tehran, 1975, p. 7.
(EIr)
Originally Published: July 20, 2009
Last Updated: July 20, 2009